On Wellness and Happiness with Kelly Loehr, Querencia's Wellness Director
Categories:
When I decided to make our next blog on Querencia's Wellness Director, Kelly Loehr, I thought it would only be fair to experience what she does first hand.  That being said, I laced up my gym shoes and joined the 7:30 am Circuit Training class.  I was curious as to how I would fit in with the regular group of members who are committed to this early morning workout.  Stations of balls, ropes, light weights, and mats were set up outside. Music was playing, and I was ready to go.
After an hour, sweat, laughter, and exhaustion is how I would best describe the class.  Being new to most of the exercises, I appreciated how Kelly took the time to modify any of the movements for myself as well as others.  She explained that each exercise had a purpose and training the way we move in life is most important.  (Which explains why the stations had us going right, left, up, down, lifting, and catching.)
For Kelly, fitness means feeling good and having fun.  As she stated 'nobody feels good when they are injured,' which is why she focuses on her students having proper form.  Her advice to anyone looking to improve their fitness is to find something you love to do.
Kelly has lived in San Jose del Cabo for twelve years and joined Querencia two and a half years ago, after being a personal trainer and yoga instructor in Los Cabos.  Her passion for teaching others is in her blood.  Both her parents were school teachers, and Kelly was also an elementary school teacher for ten years before solely focusing on fitness.  After having her son Lucas, a month after Hurricane Odile in 2014, Kelly decided not only to tackle the role of being a new mom, but also the new role of Wellness Director at Querencia.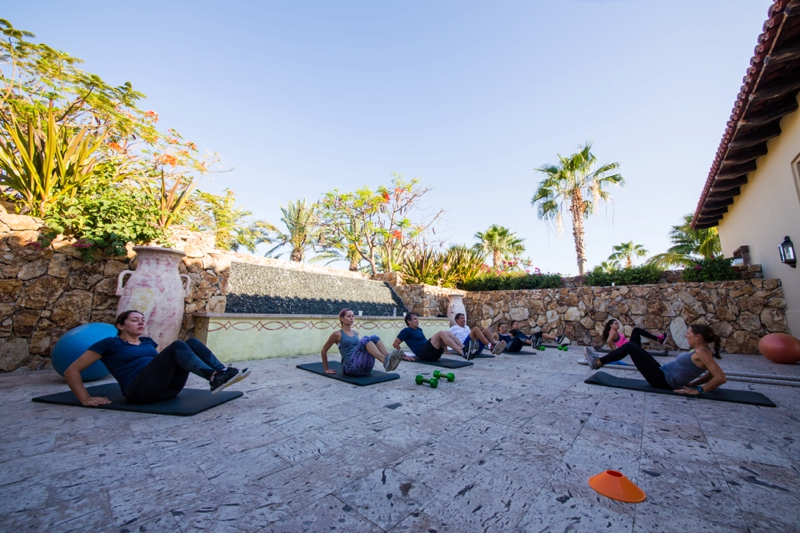 After talking with Kelly for just a couple of minutes, you will realize she has a holistic view of fitness and wellness:
People these days are looking for a 'quick fix,' whether it be the new diet fad, the new superfood, or some exercise gimmick,  just to name a few.  My answer to having a healthy lifestyle is to keep it simple.  Get off the couch and away from your iPhone and just move.  Do activities that make you happy, because happiness is health.  As for nutrition, my answer is much the same;  drink plenty of water and eat lots of veggies and fruits of all colors.  Don't complicate your diet.  Eat natural, fresh foods and stay away from processed high sugar foods.  I never count calories but instead look for foods that have the proper nutrients to fuel my body. Wellness is a whole lifestyle; it's not just exercise and fitness.
Querencia is so appealing to me because it has it all – no matter what age!  How can you not feel healthy here?  We have biking and hiking trails, tennis/paddle courts, a fitness center, lap pool and yoga pavilion, and to top it off, one of the best golf courses in the world and the best surf spot in town.  Let's not forget about our incredible spa, a variety of restaurants, and a newly added beach club.   I feel truly blessed to wake up every morning and spend my days at Q.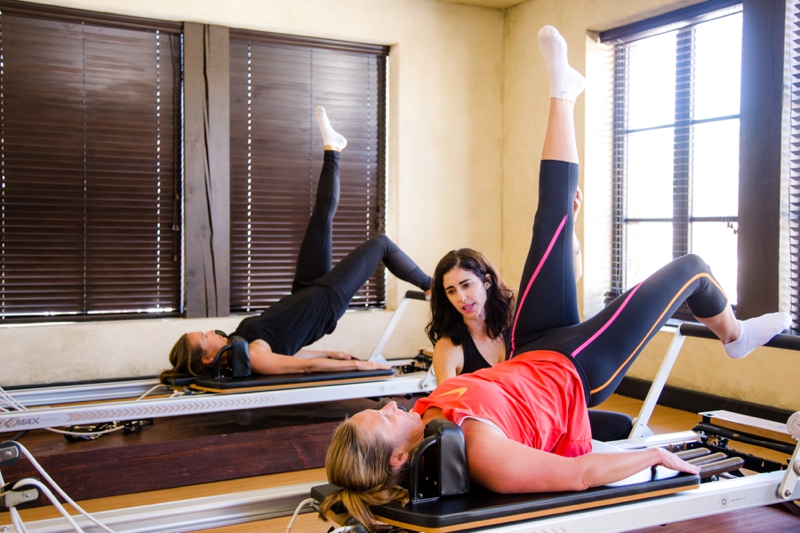 Kelly's role is much larger than just teaching classes.  Can you give us a brief overview of what you have brought to Querencia's Wellness program since you started?
When I decided to take on the role of Wellness Director, I had a big vision of what we could achieve with regards to fitness and overall wellness.  Creating the Q Fit brand was my first step, and next came the weekly classes.  I am proud that Q Fit offers classes for everyone at any level from Mat Pilates and Yoga to Cross/Circuit Training.  I'm also extremely pleased with how successful the Pilates Reformer Promo classes have been.  Michelle, our instructor, is wonderful and she's been the main reason for its high demand.  We also added a weekly meditation class to our schedule which will continue next season.
Q Trails have also been popular amongst the Q members.  Hikers and mountain bikers can now enjoy marked trails that allow them to experience the Baja landscape truly.  However, I always recommend picking up a Q Trail map before heading out.
I'm also appreciative that Q Fit has brought in some of the best instructors for special activities, such as Ignacio Escribano's Mantra course, Natasha Grbich's yoga workshops, Brenda's Zumba classes, and Eric's Movement Coaching clinic.
The Q Ocean Club activities have also been our members favorite.  Charlie is the absolute best activities and Club Manager at our beach club, and he is there to help set anyone up on paddle boards, surfboards, kayaks, snorkeling, etc…
Q Fit is a team of outstanding instructors and employees.  Juan, Gustavo, and Luis are a tremendous asset to the department, and I thrive on the fact that I do believe we have the best instructors in all of Baja.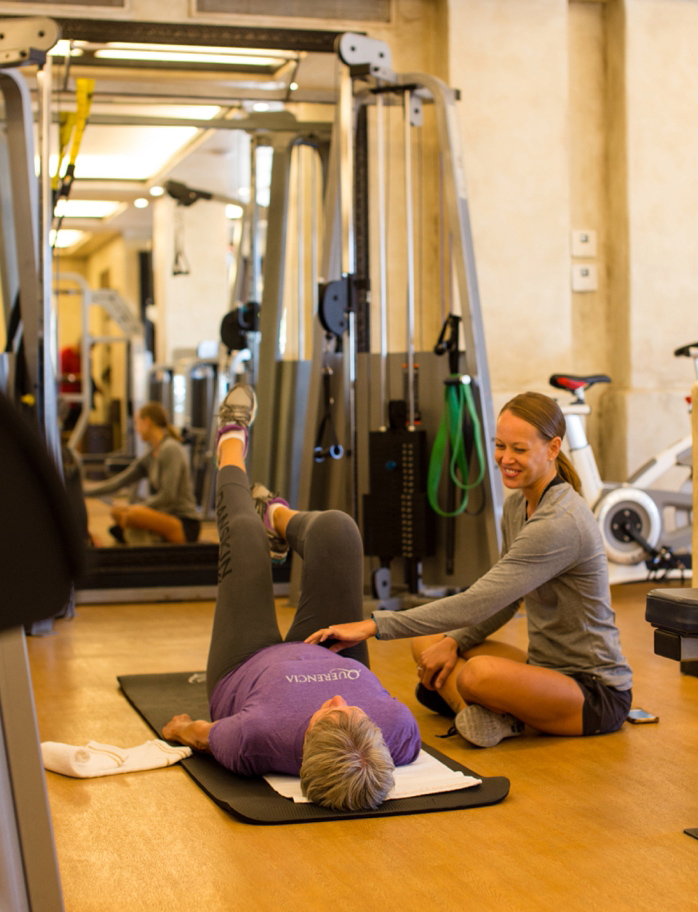 What changes or new activities are coming to Q Fit next season?
I am looking forward to next season; we just keep adding on to what we already have.  The two areas that I would like to see growing are the courts and starting a kids program.  We will have a pickle ball net and also be offering group tennis classes on our weekly class schedule.  Since the Pilates Reformer Promo is such a success, we have created the same concept for tennis next season. Also, we are going to have weekly tennis lessons for kids, and I am hoping to add some Golf Fitness workshops throughout the year as well.
What is your hope for QFit in the future?
I would love to see all of our members participating in some aspect of our Q Fit program. We have programs and classes that everyone can enjoy.  Fitness should be fun.  I would like people to see Querencia as a place to be healthy and happy.
Learn more about Q Fit here.
Photography by LA76 Photography.
SaveSaveSaveSave
SaveSave
SaveSave
SaveSave